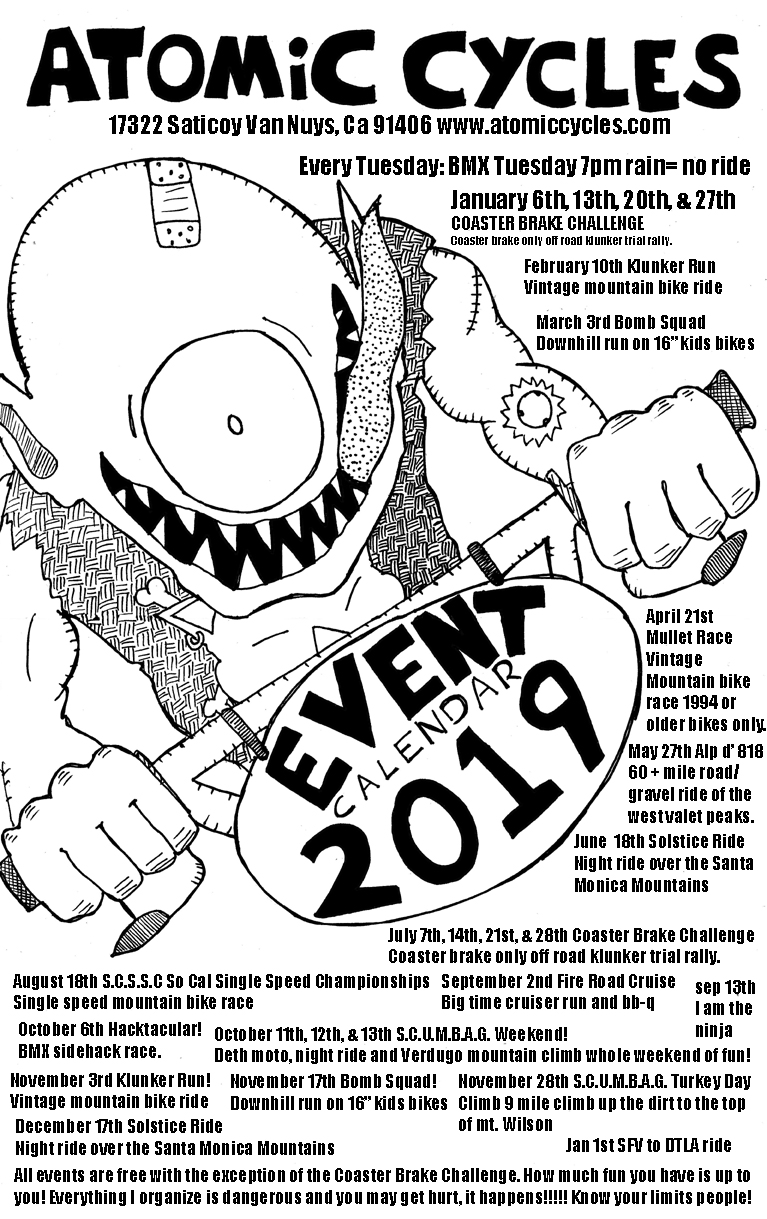 Atomic Cycles Events for 2019
Flyers will be updated soon!!
Feel free to steal my flyers off this page to share with your friends. People have ripped off my crappy drawings for their own fliers, I don't know why but at least give me some credit before you do!!
With the exception of the Coaster Brake Challenge, all events are free.
Read each description thoroughly. Some events involve a fair amount of cycling fitness and some require none.
All involve a bit of peril.
I donít live in a Nerf world.
You may get hurt, it does happen.
All events are meant to be inclusive but many are esoteric by nature.
How much fun you have is up to you. All I can do is provide a forum for fun, you are part of the equation.
NOTE: NO MORE SWAPMEETS.
I did it for a decade, it was no longer fun for me, I was very clear/loud/vehement/repetitive about it needing to be fun or I would scrap it. Well kiddies, that day has come. I hope you made a few bucks, made some friends, found the thing you were really looking for, or got rid of all your junk so you could save your marriage. Don't call me to cry about it, I broke up with you and I never look back, we're not getting back together, it's not you, it's me, you can't change, get it? . :)
Weekly/Regular Rides:
BMX Tuesday.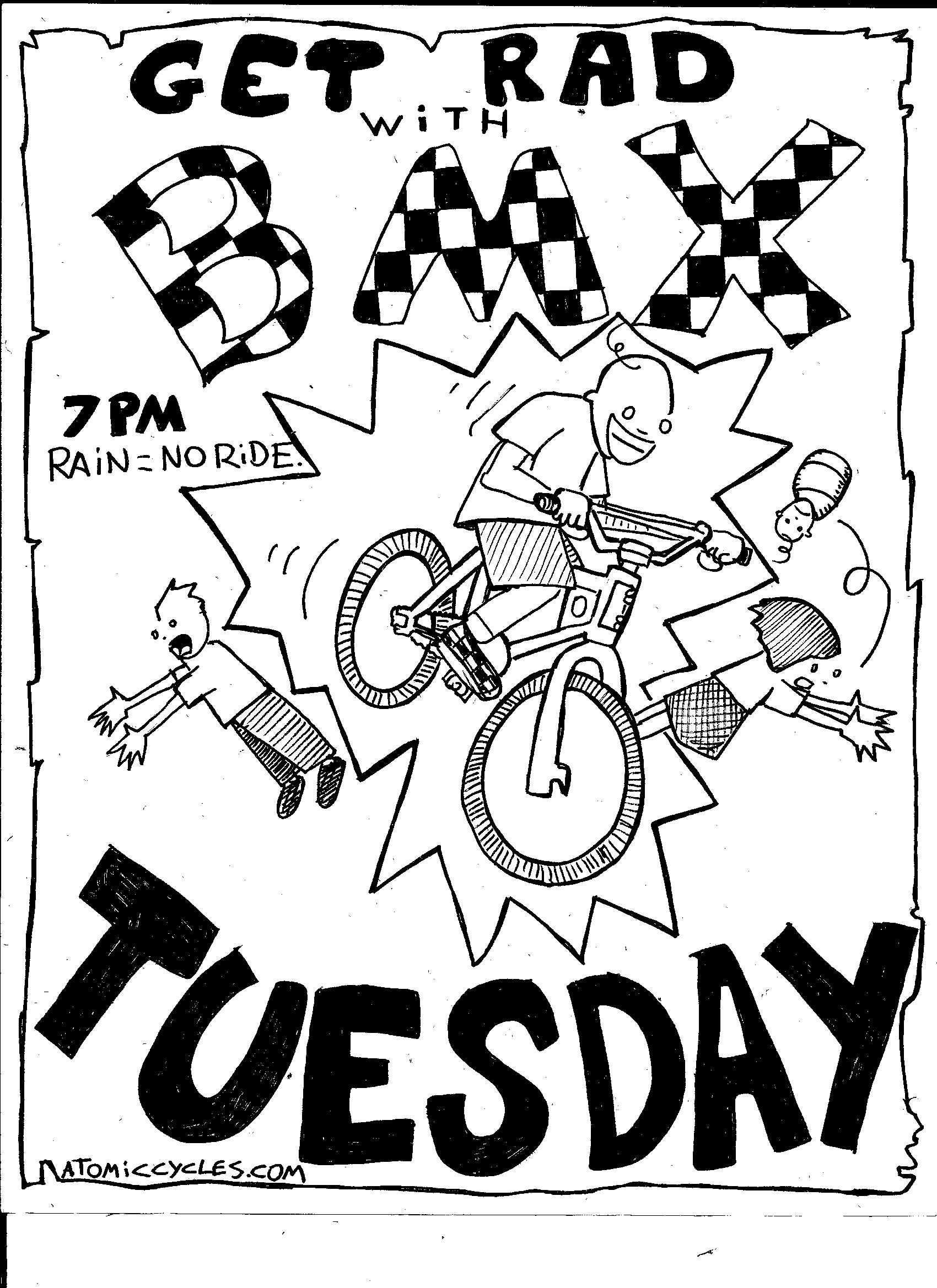 Every Tuesday we leave at 7:15 SHARP. Rain cancels. 24 and 26 BMX cruisers will be the bike of choice. You donít have one? No problem. Ride what you got. Average mileage is 20. We stop somewhere for food.
S.C.U.M.B.G.S
Random Sundays. Off road mountain biking. Intermediate to advanced rides. E-mail invite, so contact me to get on the list. Rides vary in length and hardness; you will be given a description. Join if you want or not. No pressure.
Other Events:
Coaster Brake Challenge 20: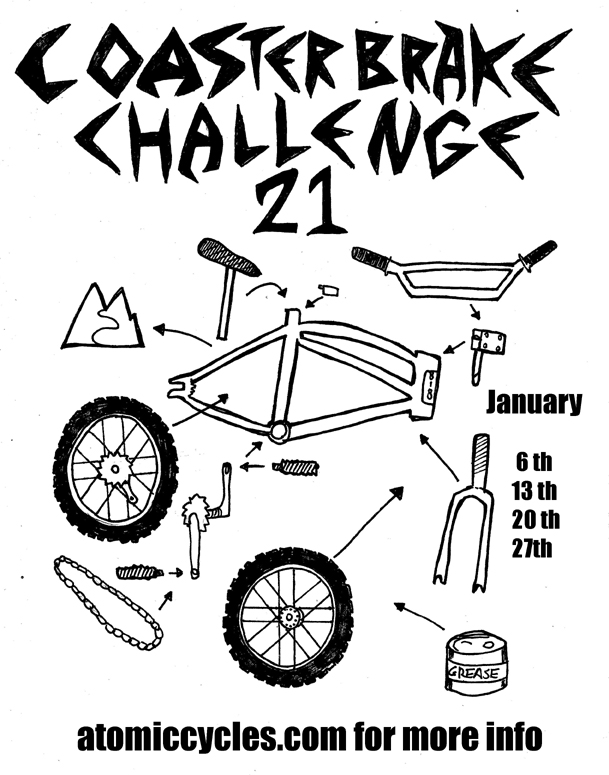 Jan 6th, 13th, 20th, 27th. On Sundays. Coaster Brake only single speed only off road rally. Heat winner and overall winner at end of the series. I have loaner bikes.
Klunker Run: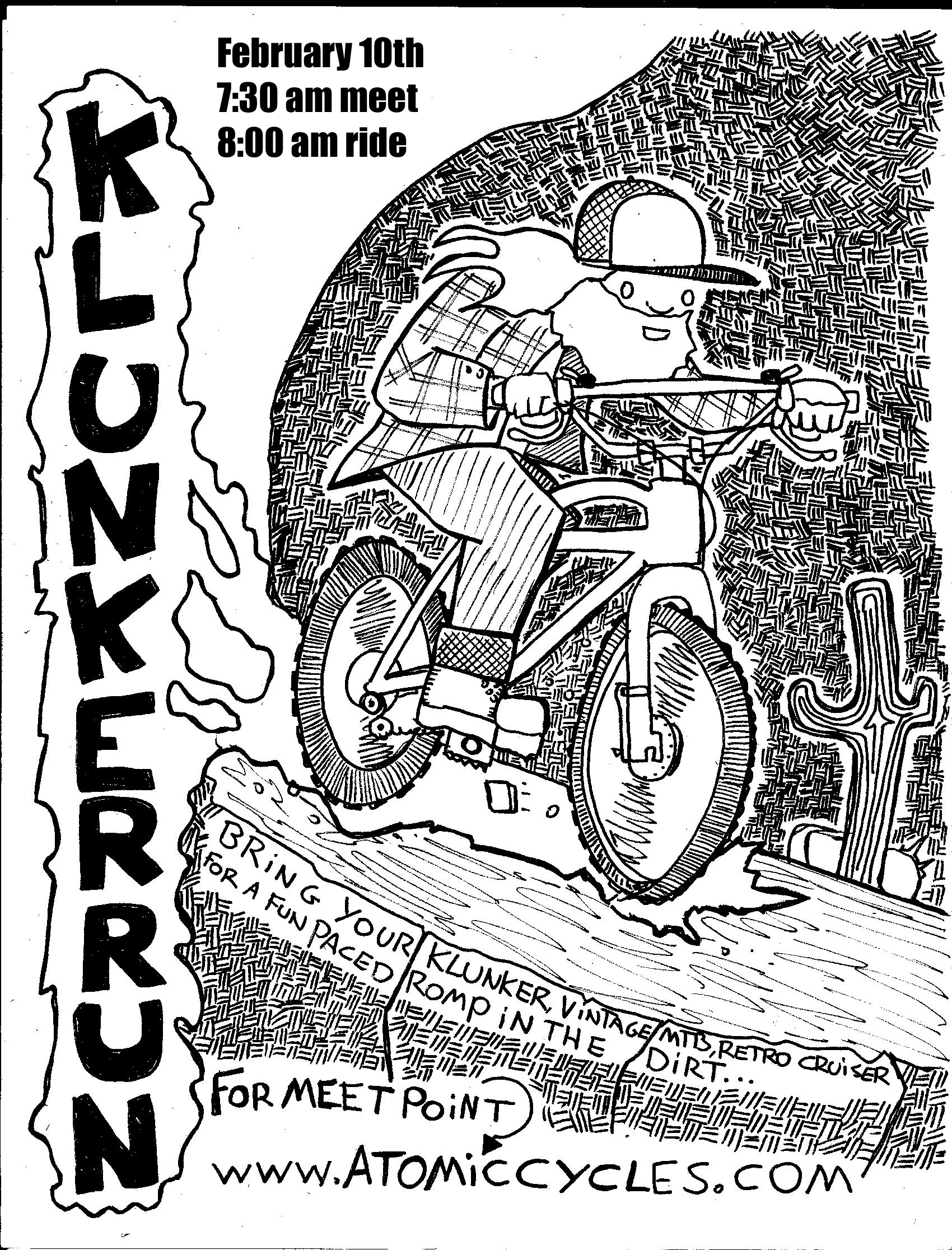 And
Klunker run is a vintage mtb ride. The emphasis is on pre-cursor repurposed cruisers but any bike is fine. Drawing the line as to what is vintage and what is not is up to heated debate, Iíd say 1990 would be fair but if you have the newest carbon fiber wonder bike and want to roll with us I have no problem with that.
Meet point 7:30 AM:
Rain or Shine! Real riders ride in weather!
We ride at 8 am sharp.
Caballero canyon on the south side of Reseda Blvd, south of Ventura Blvd. Look for the sign on the left hand side, we gather there.
Med skill level ride:
Up the Cab to the Hub junction, back the way we came to the Nike missile base, then we take Farmers for some fun single track, then down the cab again. 12-14 miles, not too hard, mostly fire roads. Nike Missile base has a toilet and water if you need it. Make sure your bike is in good working order, bring an extra tube and be ready to have some fun!!!
Bomb Squad: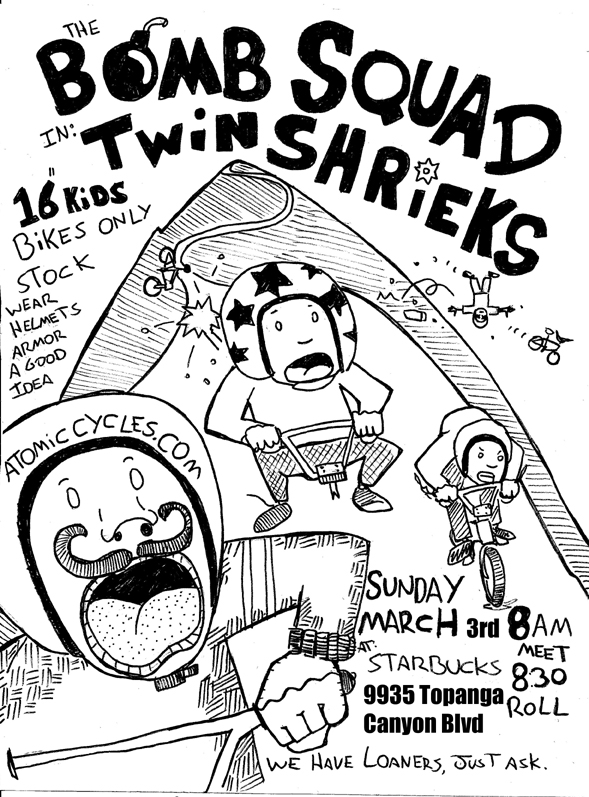 BOMB SQUAD!
This is a fun event. It is not a race, but a rally, or a group of idiots that take 16" Barbie bikes and point them downhill in masse...
How old are you?
There is no age limit on a good time.
The rules are simple:
16" kids bike in unmodified bone stock configuration.
Yes, we know you can't fit on it, neither can we.
You may add brakes.
Nothing more. (Ed)
You bike should be 5.99 at the local Goodwill...not something purpose built for downhill.
Full face helmet is recommended, and a helmet is mandatory!
Other protection, motorcycle leathers, knee and elbow pads, bubble wrap (it's happened) is highly encouraged because...
road rash sucks.
Need a loaner? Let me know, I have many!
See you then!! :) Finishers get a sticker.
The Mullet Race:
On the ever moving Easter Sunday many miles on a vintage steed, I'm going to say 1994 This means No V-brakes, Clip in pedals, and a very limited selection of suspension, real riders would rock the full rigid. Carbon fiber? What's that? Bring your steel steed, your mullet, and some Oakley Blades, decked out in some neon and get ready to rumble!! It is Easter Sunday, but whatever, that means you don't have to get up at the crack of dawn to roll, we can have fun and party afterwards.. that is exactly what we are going to do kiddies..oh yeah! Course should take 2-3 hours...more if you have not ridden your bike since it was new...
Alp dí 818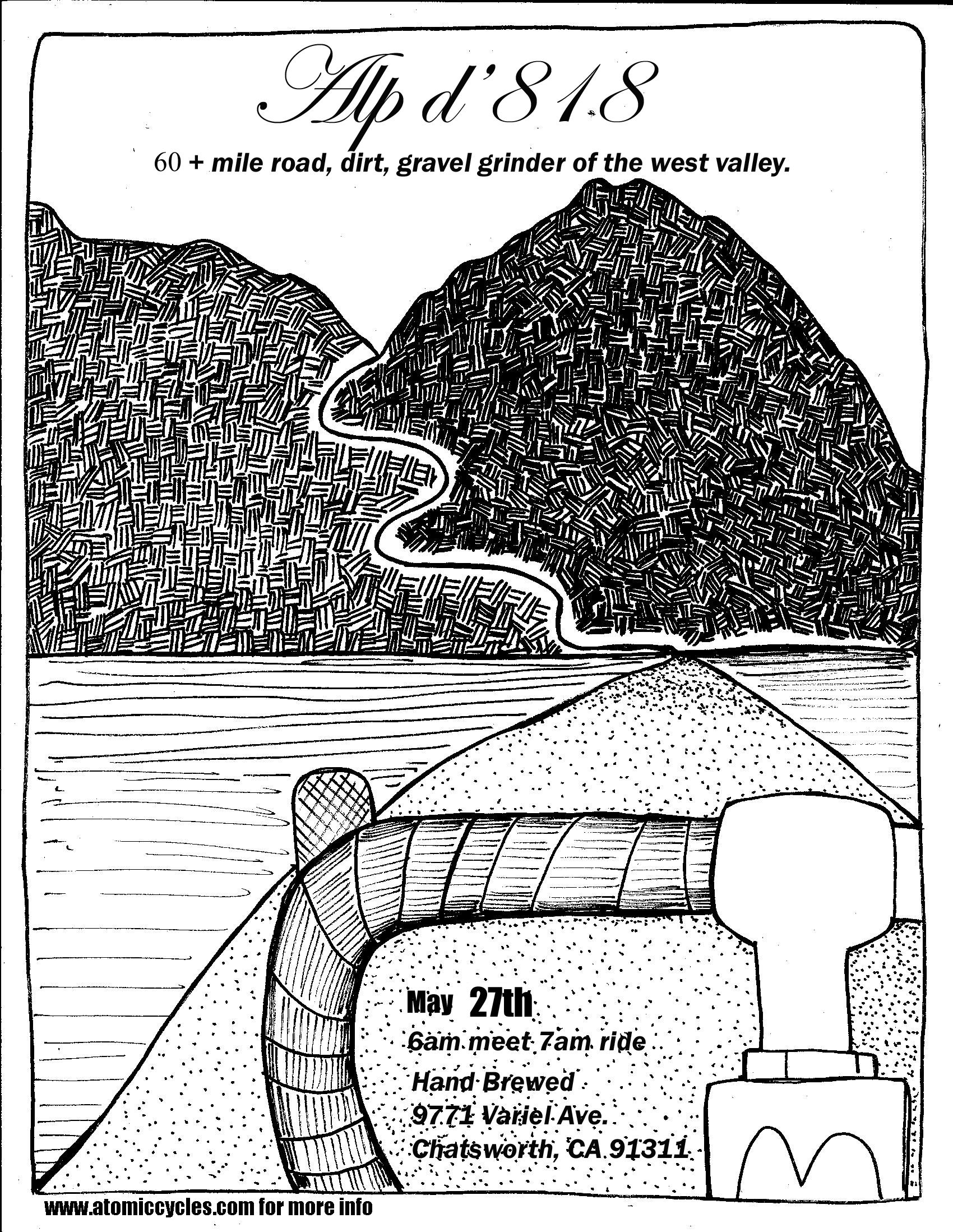 May 27th. 6am meet 7am ride. 60 ish mile road ride with 7,000 feet of elevation gain. Weíll do a tour of the West Valley peaks. We will ride on regular roads, badly paved and unused roads and dirt roads. A cyclocross bike or Randonneuring bike would be ideal. We will stop once for people to re up on water use the toilet. It is a group ride so we arenít doing a race pace. A high level of cycling fitness is paramount for this ride. We will meet at my friendís brewery at 6am and roll out at 7am SHARP. We will return for libations and food. Bring some $$ for the beer, food will be free. Route maps will be given out the day of the ride. Bring extra tube, food, water, tools and your A game. Make sure your bike is in good working order.
Solstice Ride
June 18th
An overlap ride from BMX Tuesday. We climb and cross the spine of the Santa Monica Mountains. Bring lights. The ride is hard. The view: Priceless. We roll on BMX cruisers but roll on what you have we donít care.
Coaster Brake Challenge # 22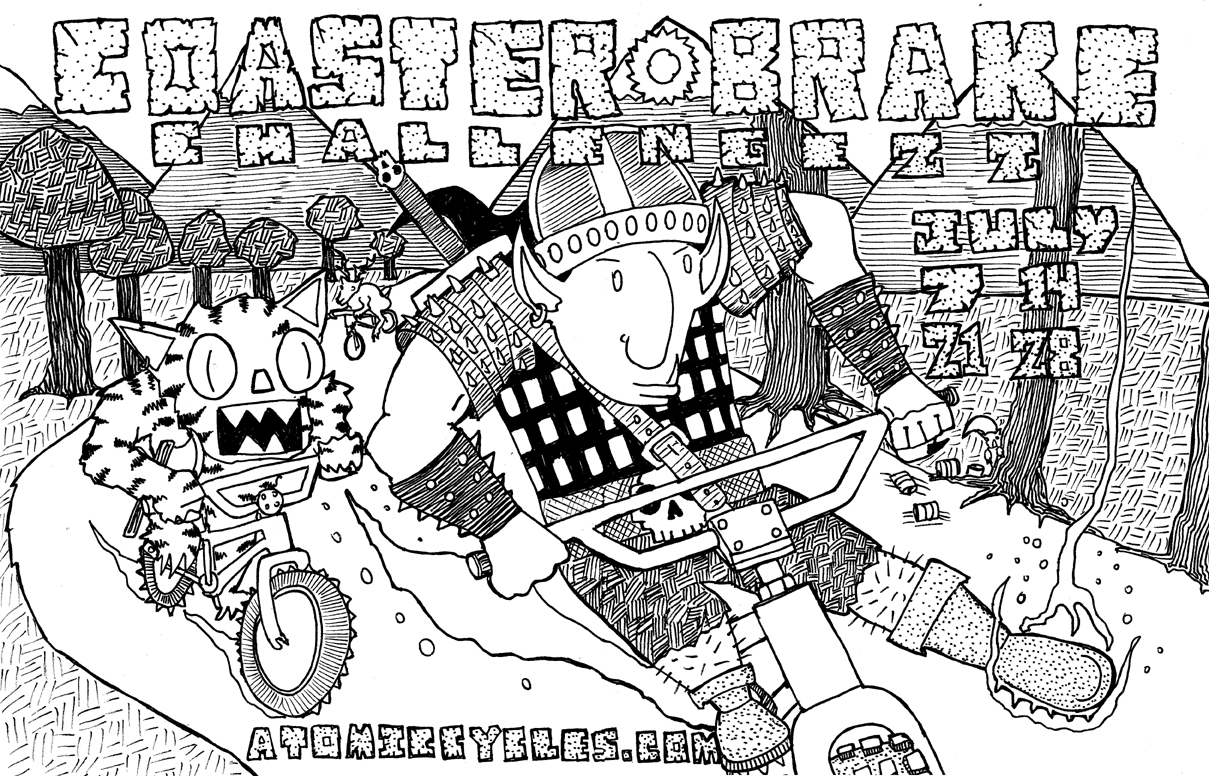 July 7th, 14th, 21st, 28th, more sweat, snot, sideways sliding fun off-road armed only with a coaster brake.
SCSSC
August 18th
So Cal Single Speed Championship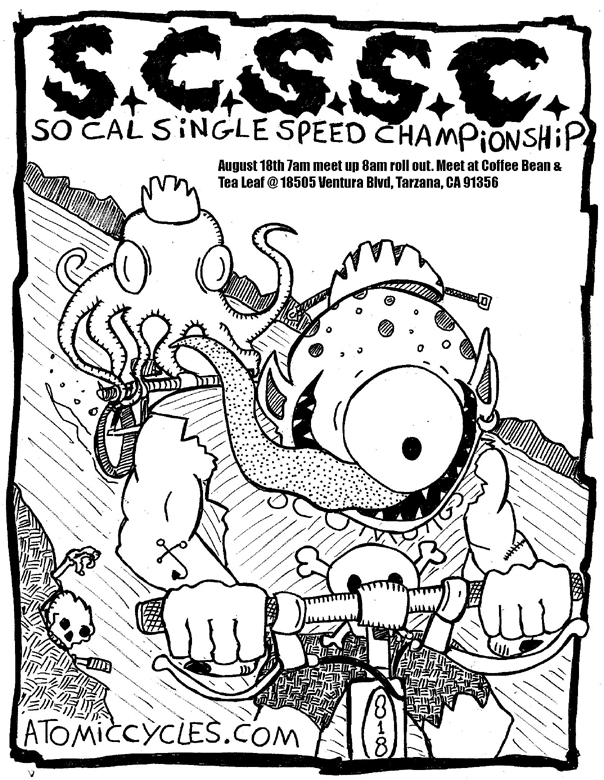 Single speed mtb race miles are around 12-14 some beast climbs and lots of chances to get lost. Crappy hand drawn maps will be provided. I have loaner bikes, hit me up if you want one.
Normal single speed mountain bikes are utilized.
Fire Road Cruise
September 2nd